Take Lessons With Keith.....

Guitar * Mandolin * Banjo * Dobro * Lap Steel * Ukulele
A good teacher must be both an accomplished musician as well as an experienced instructor. Another key factor for a truly great teacher is good communication skills. No matter how great a player is, they must have the ability to organize and transfer information to the student in a clear and concise manner. This can be a difficult task since each student learns a little differently. A well-seasoned instructor is able to assess a student's abilities and learning patterns and custom tailor the lessons to achieve the best results. Studying with Keith is an opportunity to work with an experienced professional who has national credentials. Lessons are open to aspiring musicians of all levels and ages.
"I really feel like I'm developing a fuller understanding of my mandolin. It's sure to improve my Bluegrass playing."-Joel
At My Studio......
I offer both private and group instruction in my fully-equipped teaching studio in Elmhurst, IL. The space features a computer workstation with a large screen HD monitor, high-speed internet access and studio quality audio monitors. Each lesson is recorded live directly to CD via a condenser microphone and students leave with a digital copy of their session. There are also a variety of excellent guitar amplifiers available so no need to bring your own.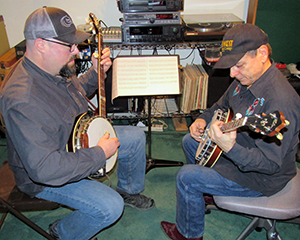 "Knowing what to play starts with true understanding of the genre. Whether it's bluegrass, western swing, jazz, or rock, Keith's vast experience allows me to find the roadmap before I drive the car."-Steve
For those students who do not live within commuting distance of my studio, or do not have transportation, I offer online lessons via Skype. My studio is equipped with an HD webcam, high-speed broadband internet connection and studio-quality audio interface for sharp high-resolution video and crystal-clear audio.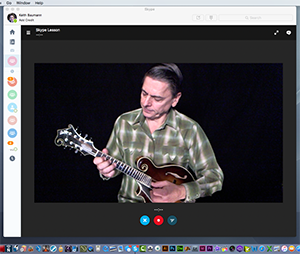 "He gives me insights and techniques that immediately improve my playing."-Jeff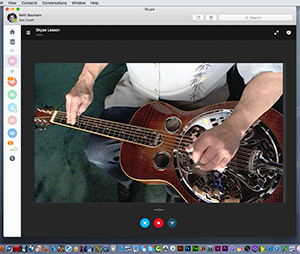 "With many years' experience as a professional musician and teacher, Keith provides very comprehensive instruction. If you want to reach a higher level of musicianship, Keith will take you there."-Patrick