Keith Baumann has been a professional musician and teacher for nearly 40 years. Picking up the guitar as a teenager, his passion soon led him to the mandolin, banjo, dobro, steel guitar and ukulele. Although his life-long obsession began with Bluegrass, Keith has expanded his musical vocabulary to include Jazz, Dixieland, Country, Western Swing and even Hawaiian music. Calling Chicago his home, he is both an in-demand sideman and respected bandleader.
Performer......
No stranger to the stage, Keith has enjoyed a lengthy career bringing his talents to venues and festivals throughout the United States. As a former member of The Special Consensus, he has toured the country as a bluegrass artist. While living on the west coast, he joined up with Heartland, alongside bandmates Alison Brown, Tony Furtado and Jim Nunally and also performing with Western Swing Hall of Fame member Don Burnham's Lost Weekend Band. In 2006, Keith was invited to Texas to perform as a special guest at the Legends of Western Swing Festival. Maintaining a busy schedule, Keith continues to freelance with numerous groups as well as performing with his own bands, The Main Stem Orchestra, The Dixie Tornadoes, The Hard Times Bluegrass Band and Long Journey Home.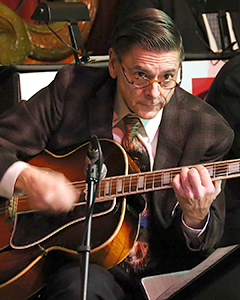 Keith has had the honor of performing with:
The Vassar Clements Band, Greg Cahill and the Special Consensus, Alan Munde, Laurie Lewis, Joe Newberry, Peter Rowan, Johnny Baier, Patsy Montana, Johnny Frigo, Robbie Fulks, Tiny Moore, Don Stiernberg, John Reischman, Caleb Klauder, Rose Maddox, Bryan Bowers, Leon Rausch and The Texas Playboys, Joe Craven, Joel Gray, Marvin Hamlisch, Michael Miles, Jackie Allen.
As an educator, Keith has discovered that sharing his knowledge with others is something he really enjoys. He has taught hundreds of students, many who have gone on to have professional music careers of their own. Working at Chicago's Old Town School of Folk Music for nearly 15 years, he has offered both classes and private instruction on multiple instruments. He also maintains a schedule of private students both online via Skype and in person at his studio in Elmhurst, IL. His reputation as an accomplished teacher has led to invitations from several prestigious workshops and music camps throughout the U.S. Keith has taught for 9 years at
Midwest Banjo Camp
and his been on staff at
NashCamp's Bluegrass
week. He has also worked at the
Puget Sound Guitar Workshop
and the Cape Cod Mandolin Camp teaching alongside Claire Lynch, Stacy Phillips, Tony Trschka, Kenny Smith, Alan Obryant, Buddy Wachter, Alan Munde, Greg Cahill, Bill Evans, Don Vappie, Don Stiernberg, Joe Newberry Barbara Lamb, Tim May, Ivan Rosenberg, Marilynn Mair, Ashby Frank, Rich DelGrosso, Carlo Aonzo, Jesse Brock, Dick Smith, Butch Baldassari, Matt Flinner and many more.
Through years of performing experience and a life-long passion for stringed instruments Keith has developed a keen knowledge of the music industry which he has been able to share through his published writing. He is a regular feature writer for
DownBeat
magazine, contributing articles on instruments, amps, recording gear, and music technology. In addition to his features, he has written over 150 product reviews and had instructional pieces printed in both
Guitar Player
and
Flatpicking Guitar
magazine.